---
For more information about our leadership research, please download our white paper "The Leadership Transition"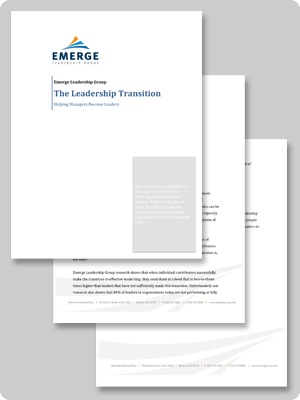 DOWNLOAD WHITE PAPER
Leading-edge workshops, tools, assessments and measurement that drive increased leadership effectiveness
As a highly research-based organization, Emerge Leadership Group is keenly aware of the challenges in transitioning superstar individual contributors to first-line leaders. The data shows that the direct reports of fully-transitioned leaders outperform the direct reports of non-transitioned leaders by 15%. We understand that emerging and new leaders:
Need to define the scope of work and communicate the expectations to team members.
Need to build strategic, reciprocal relationships with direct reports, other managers, as well as directors and division heads.
Need to organize and direct the work of others through strategic delegation and ongoing coaching.
Our leadership development processes focus on these critical transitions and on the shift in behavior necessary for these leaders to continue to make a significant contribution over the course of their career.
Emerge offers off-the-shelf leadership development workshops, tools and assessments as well as customized leadership solutions. Our consulting services meet the unique needs of our clients, whether they need new development curricula or additional training programs to improve their skills-based training already in place.
Learn more about our Leadership Journey.
Learn more about our consulting services and customized programs.