---
For more information about our leadership research, please download our white paper "The Leadership Transition"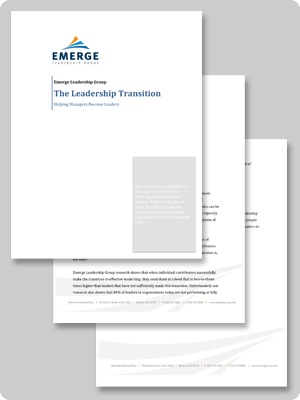 DOWNLOAD WHITE PAPER
At Emerge, we stand behind three core principles that define our interaction with our clients and their employees.
WE PARTNER WITH OUR CLIENTS
We acknowledge that it is only through thoroughly understanding our clients, their goals, their culture and their leadership that we can help increase the contribution of all leaders.
WE LEAD BY EXAMPLE
We work with some of the most innovative organizations in the world and we confront all new issues and challenges that arise from these partnerships without compromise. We are flexible, we are honest, and we innovate and improve constantly to be the best examples of effective leaders.
WE RESEARCH AND INNOVATE
Emerge values every client relationship and our goal is to be a dedicated driver of continued, strategic innovation. We stay at the cutting-edge of leadership transitions and development. Our ongoing research provides our clients and prospective clients with the latest information and approaches in regards to developing leaders at all levels