---
For more information about our leadership research, please download our paper "The Leadership Transition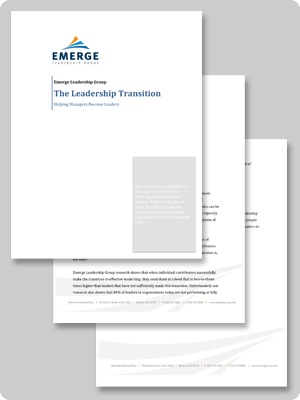 DOWNLOAD WHITE PAPER
This is one of the best professional development workshops that I have ever attended.
– McDonald's Corporation –
We hit a home run when we partnered with Emerge Leadership Group to facilitate the transition of our future leaders. The workshops they provide, coupled with their transition tracking process, provide the tools we need to benchmark and measure the contribution that our leaders will make to our company over time.
– Lockheed Martin –
This was an excellent program! I am 100% sure that I will apply what I've learned to my new role as a manager.
– Sony Electronics –
I love the fact that this workshop dealt with real-life learning experiences.
– Sanofi-Aventis –
Of all the management development workshops that I've been to, this is one of the best ones.
– PPG Aerospace –
I don't usually feel this way about our training but this was time very well invested.
– Bristol Myers Squibb –
Thank you again for a wonderful two days.  The content and workshops were fantastic!  I generally go into these types of training with a high degree of skepticism, but I was blown away.  I want to find a way to get my Australian leadership team to one of your workshops in the years ahead. Thank you again for the wonderful insights on becoming a stronger leader.
– Tennant Company –
I was expecting this class to be too general in nature and only find a few topics. It was much more than what I expected. I really like the ZONE piece and the way Emerge "stacked" the career levels. Very interesting and insightful.
– Rogers Communications –
We were told we are the Pilot class, I'd recommend this being made available on a global level.
– Northern Trust –