---
For more information about our leadership research, please download our paper "The Leadership Transition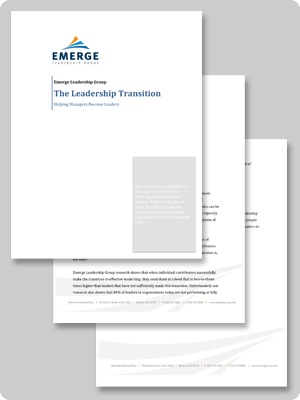 DOWNLOAD WHITE PAPER
Thought Leaders in Leadership Transition Research
While many people assume that getting a promotion to a leadership role is all that is necessary to becoming a leader, research done at Emerge reveals some surprising results.
Leadership Crisis
In a study with several Fortune 1000 companies, we uncovered a startling crisis in the quality of leadership. Analysis of interviews, surveys, and focus groups revealed that 48% of employees with leadership titles were still approaching their work like individual contributors–these employees think, feel, value, and behave the way competent individual contributors would, even though they were expected to lead others.
Surprisingly, only 25% of people with leadership titles were considered to be fully transitioned into the leadership role. They still had responsibilities to contribute on an individual scale, and yet, they were able to "approach" their work efficiently and effectively while also leading and guiding others productively.
The remaining 27% of leaders were seen as being stuck, somewhere in "transition" between approaching their work the way they used to, as an individual contributor, and approaching it as a leader.
In 2013, we conducted a follow-up study with the same companies. From these companies, over 3,000 individuals were given the Emerge Leadership Assessment(TM), and solicited feedback from their immediate managers, prior to participating in an Emerge workshop.
An analysis of these 3,000 Leadership Transition Assessments revealed that 47% of all managers are still seen as operating as individual contributors. This number is surprisingly consistent with the previously found percentage from 2004.
The most striking finding from this study showed that the percentage of leaders who had fully transitioned had dropped down to 16%, from the previous 25%. The remaining 37% were still stuck in transition.
Although many things may be contributing to the overall patterns and trends found in these studies, we noticed that as a trend, the leaner an organization is, the longer it takes emerging leaders to fully-transition to their role. It begs the question, "If a majority of our leaders are acting like individual contributors, what leadership work is NOT getting done in our organizations?"
Time to Transition
What is clear from these studies is that percentage of leaders who transition their approach, who start thinking, feeling, valuing, and behaving like a leader, is much smaller than most organizations can sustain.
Multiple sources, including our own data and experience, tell us that the transition usually takes 3 to 5 years to complete. That said, when nothing else intervenes to assist these leaders, the time it takes them to become as effective grows. Without assistance to reduce this period, consider the amount of time, energy, opportunity, and capital that will be wasted by organizations, teams, and individuals who are led ineffectively.
If 84% of all leaders in today's organizations have not yet fully transitioned to the role of leader, then even the most conservative calculation of the costs are significant.
Research shows that an individual contributor who fully transitions into the role of leader will more than double his or her contribution to the organization.
What Is To Be Done?
Most organizations struggle with this leadership crisis. If you are concerned with the extent to which leaders in your organization have made this transition, we have created a solution based on the research above. Emerge has created a process and set of interventions that have a long demonstrated history of success.
If you would like to learn more about what you can do, please contact us for more information.